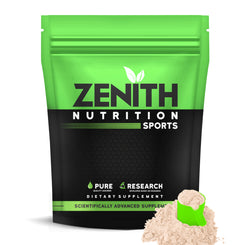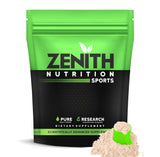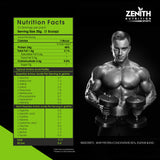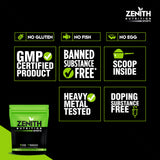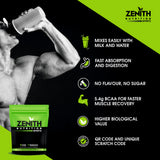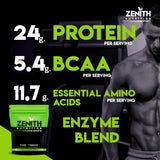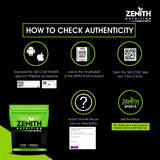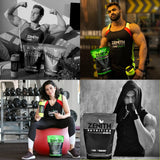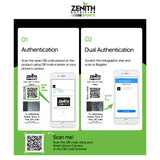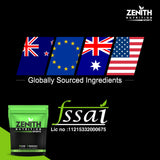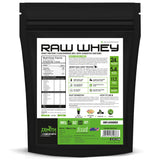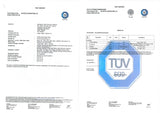 Zenith Sports Raw Whey Protein 80% | with Digestive Enzymes (Unflavoured) 1 KG
Best Whey Protein for Women & Men in India
Zenith Sports raw whey protein is one of the best raw whey protein in India
HIGH PROTEIN YIELD: Every scoop delivers 24g of protein, enriched with 5.4g of BCAA and 11.7g of essential amino acids to enhance strength and muscle mass. Zenith Raw Whey is cold-processed and nutritionally superior, contains no fillers, artificial flavors, sweeteners, gluten, and is free of added preservatives and banned substances.
ENZYME BLEND FOR QUICK DIGESTION: The convenient, easy-to-mix protein powder is fortified with multiple enzymes like Protease, Lipase, Amylase, Lactase, Cellulase, Papain, Bromelain to help you in max absorption of the consumed protein. The enzyme formula aids in better digestion of Whey and removes the bloating feeling, ensuring that you get the max out of your workout.  
RAPID RELEASE PROTEIN: Whey is superior to other forms of protein in that it's fast-digesting and has a higher biological value, which means the body utilizes it more efficiently. It is rapidly available to the body for utilization with an unsurpassed amino acid profile for the stimulation of muscle protein synthesis and to reverse the catabolic effect. The highly bioavailable protein effectively fulfills your purpose whether your goal is to lose weight, build muscle and boost health.
PERFECT MUSCLE FUEL: The fast-acting Whey protein contains a strong amino acid profile and is particularly high in BCAA that makes it great for post-workout muscle recovery and to support the muscle synthesis. The Whey is low in fat and carbohydrates and is an ideal choice for people concerned about calories.
FLEXIBLE & VERSATILE USE: The very satiating Whey protein can be consumed anytime you need a protein boost. It's an exceptionally healthy way to add more protein to your diet. Also, there's no end to the flavours you can create with the unflavoured protein. Blend with fruits, honey for a flavoured shake, seamlessly mixes into smoothies, pancakes and more for a boost of protein.  
100% AUTHENTIC: The Raw Whey is USA Made and packed in GMP certified plant in order to attain the highest quality standards. Further,the product goes through 3rd party lab testing to ensure check of heavy metals. The product is extra secure as every pack is provided with a QR CODE and the SCRATCH CODE to help you authenticate the product.
Will be delivered in 3 to 4 working days.
Also Try Whey Protein Vanilla
Zenith Nutrition Sports Series is carved to create the best supplements for the fitness freak, professional bodybuilders, gym enthusiasts and the youth who are looking to have a great & admirable body, that gives a profound statement to people around.