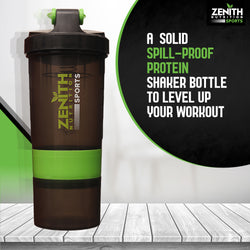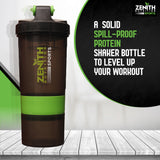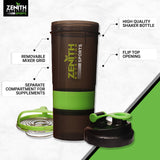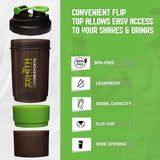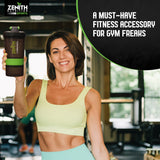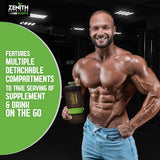 Zenith Sports Protein Shaker Bottle | BPA Free | Leak-proof – 500ml
FUNCTIONAL SHAKER BOTTLE: Made from high-quality plastic that is BPA-free. Features removable ultra-screw on leak-proof plastic lid with an attached flip-top opening, mixing grid, separate removable compartment for storing supplements, and embossed water level markings.  The wide opening on the shaker bottle makes it easy to pour the liquid into the bottle as well as easy for cleaning.
MIXING GRID: The standout feature of a shaker bottle is the mixing mechanism. Zenith shaker bottle comes with a removable mixer grid that works to break up and blend ingredients into a smooth liquid shake. The mixer grid ensures there are no lumps and powder build ups especially at the bottom of the shaker so that you enjoy secure, accurate and easy mixing of protein shake.
ASSURED FOR DURABILITY/STYLE/SAFETY: The construction quality of the shaker bottle is superior to most of the basic bottles, which makes it durable. The modernized design with vibrant green and the black colour combination looks very attractive. The impressive fact is that the bottle can be disassembled for easy cleaning.
EFFICIENT TOOL: The 100% leak-proof shaker bottle is a must-buy for your fitness routine as it adds an element of convenience. It not only serves to make healthy smoothie or protein shake but also serves as a water bottle to keep you hydrated throughout the day.
SEPARATE COMPARTMENT FOR SUPPLEMENTS: You don't have to carry your supplements and water in 2 separate holders to the gym as the specially designed shaker bottle allows you to carry them in one protein shaker. The screw-in bottom compartment is great for carrying protein, amino supplements, vitamin pills etc.
VERSATILITY: The shaker bottle is a highly desirable item for athletes and regular gym-goers. The removable grid and special compartment allow it to be used just like a normal water bottle. Ideal for outdoor sports like camping, hiking, cycling etc. The lightweight design is perfect for your car, bicycle, gym bag and backpack.
Zenith Nutrition Sports Series is carved to create the best supplements for the fitness freak, professional bodybuilders, gym enthusiasts and the youth who are looking to have a great & admirable body, that gives a profound statement to people around.