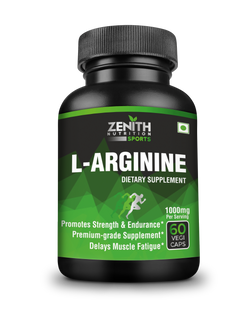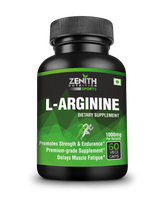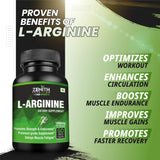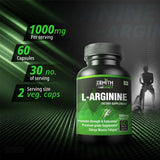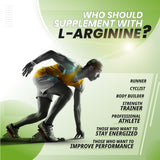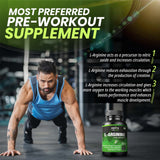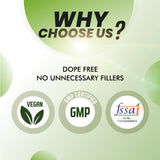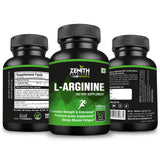 Zenith Sports L-Arginine - 1000mg per serving of 2 caps - 60 capsules
Buy L-Arginine for Muscle Building & Stamina
ZENITH SPORTS L- ARGININE MOST RELIABLE & 3rd PARTY LAB TESTED: The arginine capsules are made from naturally sourced ingredients. The formula contains no preservatives, soy, corn, yeast, sugar, artificial colors, or flavors. It undergoes a stringent process of third-party lab testing to ensure every batch has exactly what it says.  
ZENITH SPORTS L- ARGININE PROMOTES LEAN MUSCLE MASS:  L Arginine is an essential amino acid that has the highest proportion of nitrogen from the whole spectrum of amino acids and is an important part of complex proteins. Nitric Oxide will help promote blood flow, which means more oxygen reaches your muscles. Increased blood flow to your muscle means more muscle gains and vascularity, leaving you looking your best.
ZENITH SPORTS L- ARGININE SUPPORTS BIGGER PUMPS & GAINS: Besides promoting blood flow, Arginine is also well known for energy production and is perfect for weightlifters, athletes, runners, and everyday active people. When you fuel your body with the pump-inducing powerhouse, you can expect to train longer, harder, and more efficiently.
ZENITH SPORTS L- ARGININE ENERGIZE FOR PEAK PERFORMANCE: L-Arginine helps your body manufacture Creatine, which contributes to potential energy production required to boost your performance. Arginine promotes better blood flow to the muscles which may assist in peak performance.
ZENITH SPORTS L- ARGININE HELPS IN DETOXIFICATION: L-Arginine helps lower the presence of ammonia in the blood, which is a byproduct of protein breakdown. Raised levels of ammonia reduce glycogen formation which hinders energy production and leads to muscle fatigue (a declined muscle ability to generate force) via aerobic glycolysis and consequent lactic acid production. 
ZENITH SPORTS L- ARGININE AIDS IN WEIGHT LOSS: As a precursor to Nitric Oxide (NO), Arginine elevates the formation of NO which not only supports increased blood flow but also has implications on obesity. Nitric Oxide increases the function of lipase, an enzyme that facilitates the breakdown of fat. NO increases the activity of biological molecules that favor the burning of fat.
Buy BCAA Capsules, here
Buy Curcumin, here
Zenith Nutrition Sports Series is carved to create the best supplements for the fitness freak, professional bodybuilders, gym enthusiasts and the youth who are looking to have a great & admirable body, that gives a profound statement to people around.