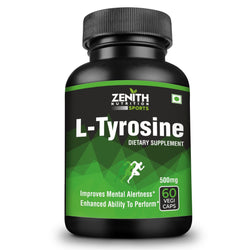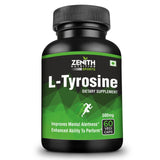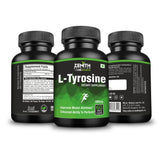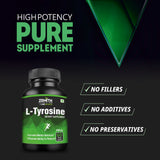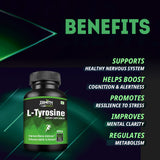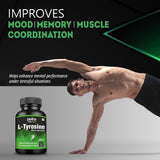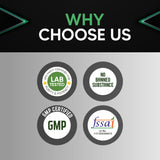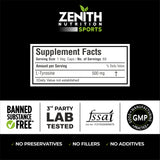 Zenith Sports L-Tyrosine 500mg - 60 Capsules
L-Tyrosine Benefits
HIGH POTENCY PURE SUPPLEMENT: L-Tyrosine is a naturally occurring form of tyrosine that is more bioavailable. It is one of the 22 amino acids used by the cells to synthesize proteins. The vegetarian, easy to swallow supplement is formulated using research-based pure ingredients. It is free from gluten, does not contain fish, flavour, sugar, salt, colour, or preservatives. Our supplement goes through strict quality control procedures for the confirmation of purity and potency.
SUPPORTS HEALTHY NERVOUS SYSTEM: Tyrosine aids in producing 3 essential neurotransmitters: norepinephrine, serotonin, and dopamine. These neurotransmitters are responsible for functions like mood, memory, muscle coordination and appetite. Norepinephrine is helpful in increasing focus and mental sharpness, Serotonin aids in alleviating anxiety and depression, while dopamine is a 'feel-good hormone' which is vital in promoting focus and concentration.
PROMOTES RESILIENCE TO STRESS: When you are under stress, your neurotransmitters in the brain can start to run low. When norepinephrine runs low, your memory and focus get affected. Having adequate amounts of tyrosine in the bloodstream helps to replenish neurotransmitters before stress can deplete them. Tyrosine helps your brain perform at its best during stress and improves your focus during tasks that demand mental endurance.
IMPROVES MENTAL CLARITY: Stressful situations can increase the release of catecholamines such as adrenaline and dopamine which can result in depletion in the levels of tyrosine. Both dopamine and norepinephrine levels are impacted by the amount of tyrosine you eat. Having higher levels of tyrosine can improve your mood, alertness, the ability to cope with stress, and cognitive functioning. The amino acid offers protection against cognitive decline and mood-related changes due to physical stress.
REGULATES METABOLISM: Tyrosine helps the body to make thyroxine, which is a type of thyroid hormone. Thyroxine is the main hormone secreted into the bloodstream by the thyroid gland which helps regulate cellular activity or metabolism. Not having enough thyroxine can lead to symptoms of an underactive thyroid, tiredness, sluggish metabolism, weight gain and weakness.
HELPS BOOST COGNITION & ALERTNESS: Tyrosine helps stimulate the nervous system to keep it functioning well. It helps synthesize several brain chemicals and neurotransmitters that regulate appetite, facilitate in stabilizing your body's reaction to stress factors. It helps regulate mood and stimulate your nervous system to keep it functioning properly.
Zenith Nutrition Sports Series is carved to create the best supplements for the fitness freak, professional bodybuilders, gym enthusiasts and the youth who are looking to have a great & admirable body, that gives a profound statement to people around.