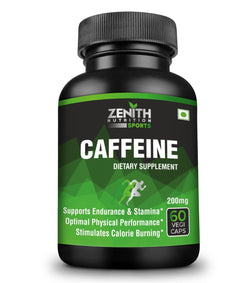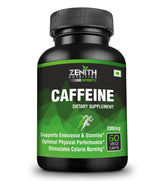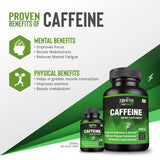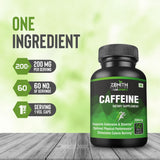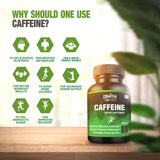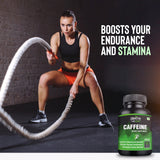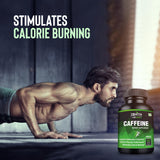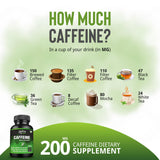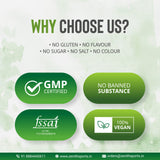 Zenith Sports Caffeine 200mg - 60 Capsules
Buy Caffeine 
RELIABLE & 3rd PARTY LAB-TESTED: The vegetarian, easy to swallow capsules are formulated to deliver 200mg of caffeine anhydrous in each serving. Caffeine anhydrous is a highly concentrated dehydrated form of natural caffeine that is obtained from dried leaves of Thea Sinesis (tea) and dried seeds of Coffee Arabica (coffee). The formula contains no preservatives, fillers or additives and is 3rd party lab-tested for assurance on purity and potency.

IMPROVES PHYSICAL PERFORMANCE: Caffeine is one of the best-tested ergogenic supplements. Its consumption prior to exercise increases performance during prolonged endurance exercise and short intense exercise. Caffeine stimulates the brain and contributes to greater concentration. The benefits of caffeine intake are more relevant during longer bouts of continuous endurance exercise.

INCREASES MUSCLE-GLYCOGEN ACCUMULATION: Faster recovery following intense exercise is mediated by a higher rate of glycogen resynthesis. Studies have demonstrated that caffeine consumed in conjunction with carbs is responsible for higher rates of post-exercise muscle glycogen stacking in comparison to the consumption of carbohydrates alone in well-trained athletes after the depletion that follows exercise.

GO HARDER/LONGER/FASTER: Glycogen sparing is crucial in the first 15 minutes of exercise. By delaying the muscle glycogen depletion, exercise can be prolonged enabling the athlete to go harder, longer, faster, and perform more reps before fatigue sets in. The increased energy allows the body to create greater force during its muscle contraction, contract muscles more forcefully, make exercise effort feel easier.

BOOSTS ALERTNESS: Caffeine can boost alertness and wakefulness, it helps improve the focus required for endurance performance. It works by binding to adenosine receptors in the brain. Adenosine suppresses arousal and promotes sleep, by binding to these receptors, caffeine blocks adenosine, stimulates the brain to release adrenaline which contributes to improved alertness and productivity during exercise.

PROMOTES FASTER RECOVERY: Intense exercise burns loads of glycogen. Caffeine if taken post-exercise helps muscles refuel faster, by increasing the rate at which your muscles absorb glycogen. By mobilizing fat stores for energy uptake, caffeine allows the body to spare glycogen, which is an additional fuel source for the body stored in the muscles and liver, thereby makes your exercise more productive the next day.
Benefits of Caffeine.
Tone muscles faster by helping the body refuel after intense exercise
Speed up glycogen refueling for more productive workouts
Caffeine speeds up post-workout recovery
Makes your exercise more productive the next day
Caffeine Reduces fatigue
Enhances cognitive function
Caffeine helps improve focus and endurance performance.
Zenith Nutrition Sports Series is carved to create the best supplements for the fitness freak, professional bodybuilders, gym enthusiasts and the youth who are looking to have a great & admirable body, that gives a profound statement to people around.
Customer Reviews
06/20/2022
shruti s.

India
Good supplement
Took it after my trainer suggestion, product is good.