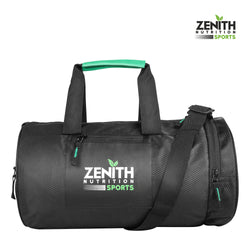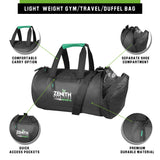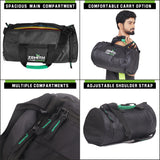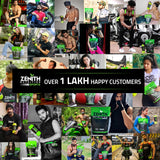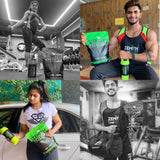 Zenith Sports Duffel Bag | Light Weight | For Gym & Travel | Separate Shoe Compartment
PREMIUM DURABLE MATERIAL: The duffel bags are the latest style statements which talk about your passion for a gym routine. The compact, trendy duffel bag is made of high-quality, durable polyester material, with attractive designing and trendy colour.
SEPARATE SHOE COMPARTMENT: We understand that a gym bag with shoe compartment is the first thing you would consider while buying a new bag for yourself. A built-in extra shoe compartment with extra zippers helps keep your shoes and clean sports gears separate and thus ensures your clean clothing is protected.
STYLISH & ACCOMODATIVE: The compact size gym bag features a top-loading main compartment, a separate shoe compartment, adjustable padded shoulder strap, quick access pockets, smooth zippers. It is convenient to carry and accommodate in the lockers at the gym.
MUST HAVE GYM BAG: A gym bag with shoe compartment is an efficient and stylish option which is worth your investment for practical reasons. Perfectly suitable for sports, gym, travel, excursion, carry-on, luggage, camping, hiking and a great gift for anyone.
COMFORTABLE CARRY OPTION: Features adjustable shoulder strap and dual carry handle for alternative carrying options. An Adjustable shoulder strap helps you wear it at the length that works for you, while the padding on the strap makes it easy and comfortable carry option. 
QUICK ACCESS POCKETS: The duffel bag is designed in a way to help organize your things in a neat, and time-saving manner. Provided with quick access pockets on the front and at the side for easy access to your gym id cards, keys, mobile phone or napkins.
Also Buy : Sports cap
Zenith Nutrition Sports Series is carved to create the best supplements for the fitness freak, professional bodybuilders, gym enthusiasts and the youth who are looking to have a great & admirable body, that gives a profound statement to people around.
Customer Reviews
05/08/2020
Harikumar b.
India
quality fine
Good quality with enough space. Will definitely suggest it if you are looking for a gym bag
05/08/2020
abhishek d.
India
good one
This bag turned to be a really great purchase. I love the hard and strong fabric. Great for taking my gym stuffs and the extra pockets help me keep everything organised. I would definitely recommend to others.
05/08/2020
kaushal
India
satisfed
Great foldable gym bag.I am very satisfied with the quality and that this bag is lightweight..The bag is really worth for money. It has a capacity to carry a pair of shoes, shaker and towel.
05/08/2020
amar t.
India
essential bag
Great foldable gym bag. I'm mostly going to use it as a travel bag for weekend trips, but you can tell the design was well though out, the best part is it folds into a little bag so you can take it inside your suitcase on longer on longer trips just in case you buy too many souvernirs or need a bag for day trips
05/08/2020
menakraj
India
bag
Bag is great & the size is perfect, its not big or small. Everything fits Just right for thé day to gym. Thé material is Nice and feels sturdy. I reccomend this bag for gym lover..