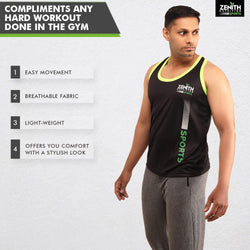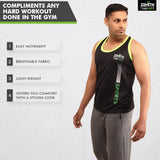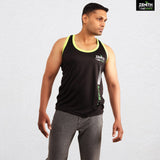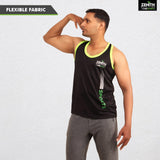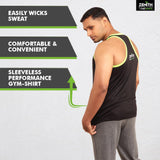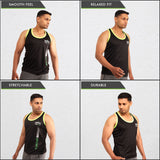 Zenith Sports Sleeveless T-shirt
EASILY INTEGRATES INTO WORKOUT: Meets the qualities you check while choosing gym wear, it's comfortable, soft, simple, durable, light-weight, breathable, skin-friendly, designed with free movement in mind, engineered to be as pleasing as possible while you workout. The performance primed gym kit addition is also serious about style.
IMPROVED RANGE OF MOVEMENT – The wrong workout clothes (very tight fitting or non-elastic) may pose a problem with free body movement causing you to hold back. We have chosen flexible fabric that enables you to perform all sorts of exercises with comfort so that your focus remains on the workout than the discomforting attire. Pair them up with comfortable track pants or shorts for an improved range of movement.
EASILY WICKS AWAY SWEAT - If you are working out at max effort, be it at the gym, at home with resistance band or dumbbell set up, Zenith Sports t-shirt can help quickly mop up any moisture or sweat perspiring from your body and dry just as fast. The cotton mixed polyester fabric with microfiber construction supports the body's natural cooling by taking sweat and dispersing it evenly throughout the surface of the garment to speed up evaporation. 

COMFORTABLE – Wearing a vest that is perfectly designed for your workout makes you feel confident in what you are wearing, it prevents injuries, allows you to direct your full attention to your workout instead of feeling self-conscious. The round neck t-shirt doesn't stick to your neck and is very comfy. It won't cause any discomfort that negatively impacts your performance. The soft fabric keeps your body cool so you don't get overheated. 

CAN BOOST YOUR CONFIDENCE – Clothing can be empowering in everyday life, and when it comes to workout, clothing contributes to confidence levels and raising self-esteem. When you look good and feel comfortable, you feel more confident. Light, breathable, sleeveless, collarless, stretchable t-shirt with a particular shoulder design is going to make a tremendous difference in how you feel and is especially suitable for those who have already built their body and have toned biceps which they don't wish to hide from others. 

SUPER DURABLE – From its sleeveless design to its black and rich green outline, the t-shirt meets the trends of the season. Stays breathable during any strength-focused session. Tend to wrinkle less and hold shape better in the long run. The comfort designed workout gear is going to be extra durable, allowing you to get plenty of use out of it. Compared to what you'd find at a typical store, the performance t-shirt will last for a much longer time.
Zenith Nutrition Sports Series is carved to create the best supplements for the fitness freak, professional bodybuilders, gym enthusiasts and the youth who are looking to have a great & admirable body, that gives a profound statement to people around.